Eco-Drive One. Our Thinnest Light-Powered Watch. Ever.



With a movement that measures an impossibly svelte 1mm thin and housed in an ultra-slim case measuring from 2.98mm to 3.88mm thick, this breakthrough collection marks a new chapter in both light-powered movement and ultra-thin watchmaking.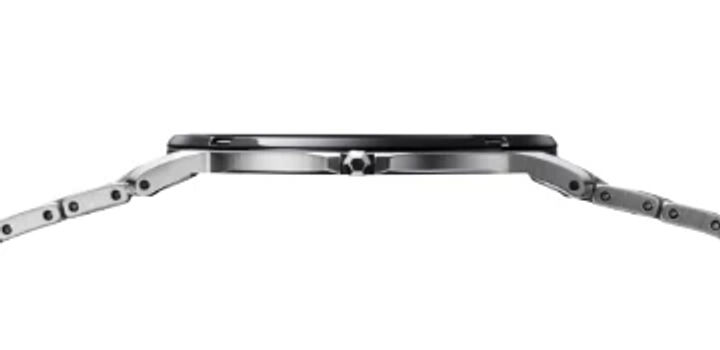 A Hand-Assembled Masterpiece
An incredible feat of engineering, almost every movement component was designed from scratch in-house, and comes in at less than 1mm in height. When paired with a 0.15mm synthetic sapphire dial and crystal and a brand-new, rechargeable 3.7V power cell from Maxell, the result is a hand-assembled wonder of craftsmanship.
---
An Impressive History of Innovation
The latest models in the continually evolving line of Eco-Drive One watches are powered by the Eco-Drive Caliber 8826. Each timepiece features a 39mm case just 2.98mm thick, sapphire crystals with "Clarity" coating, 3 bar water resistance, 12 months of running time on a full charge, and an accuracy of +/- 15 seconds per month. The impressive lightweight durability is achieved with Cermet bezels and a proprietary Duratect coating. Available in a blue or black dial, each features a distinctive bezel secured by four decorative screws and an intricate "beads of rice" bracelet.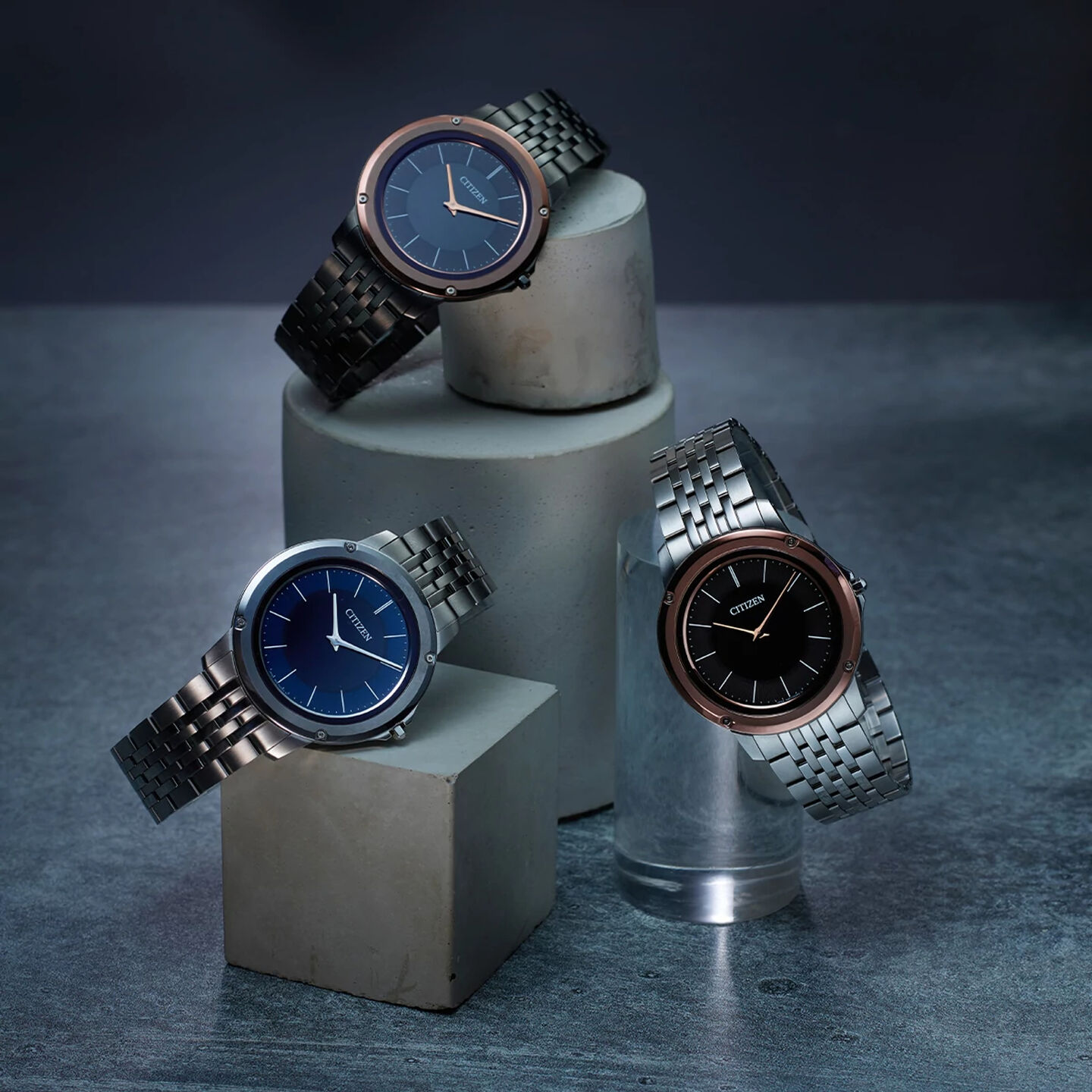 ---
Iconic Sport Luxury to the Next Level
Inspired by the luxury sports watches from the 70s, the sleek, new Eco-Drive One makes its debut. With 12 months of running time, it features a 38mm one-piece case measuring just 3.88mm thick, a sapphire crystal with "Clarity" coating, a hardy 5 bar water resistance, and a modified pentagonal shape. Cased in eye-catching Duratect Platinum-coated stainless steel with a black dial, this elegant yet durable model constitutes a shift in the traditionally classic CITIZEN Eco-Drive One aesthetic.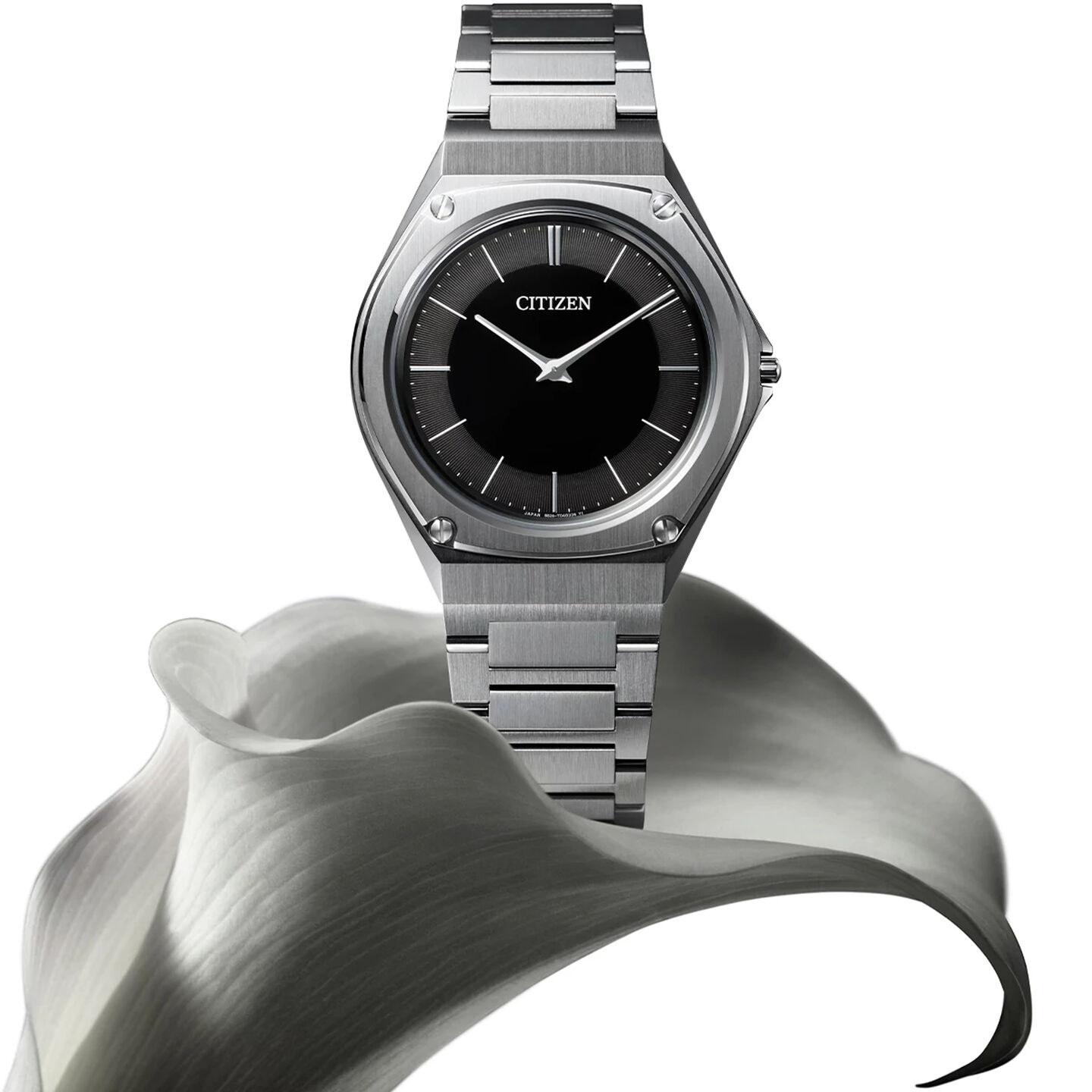 ---
Timeless Design with an Elevated Edge
The new Eco-Drive One offers versatility for everyday luxury and style. Striking a balance between classic and sporty, it features a stainless steel bracelet and a black textured dial with applied indices and a matching handset. This sleek 39mm Eco-Drive One model boasts a Duratect Platinum-coated stainless steel case, 3 bar water resistance, a sapphire crystal with "Clarity" coating, and a new zirconia ceramic bezel.