Naismith
Citizen Watch officially becomes the title sponsor of the Naismith College Player of the Year Awards. Additionally, becoming an official marketing partner, with the designation as the "Official Watch of the Naismith Trophy."
The Citizen Watch Naismith Trophy, presented since 1969 annually to the most outstanding men's and women's college basketball player nationwide, focuses on those in contention for the award, with a "watch" announcement to emphasize player movement, specifically the 50-watch list, 30 midseason team, 10 national semifinalists, four finalists and the winner.
With the Citizen Watch Naismith Trophy celebrating its 50th anniversary in 2018, Citizen will spearhead a "moments in time" campaign, honoring the players and moments that shaped and established the trophy as the most prestigious individual college basketball player award, culminating at the 2018 Men's Final Four in San Antonio when the Citizen Watch Naismith Trophy will recognize all previous winners over the last 50 years. "Citizen is a brand that currently supports young students with academic scholarships through its corporate sponsorship of the National Merit Scholarship Foundation," said Eric Horowitz, U.S. managing director of Citizen Watch.
"Citizen is proud now to extend its connection to college students with the Citizen Naismith Trophy Award recognizing the impressive efforts of college athletes and rewarding their sacrifices and work both on and off the court. We are happy to be partnering with such a wonderful organization and hope to create together many moments that will further our common interest and passion in advancing the goals of college student athletes." South Carolina Georgia Football.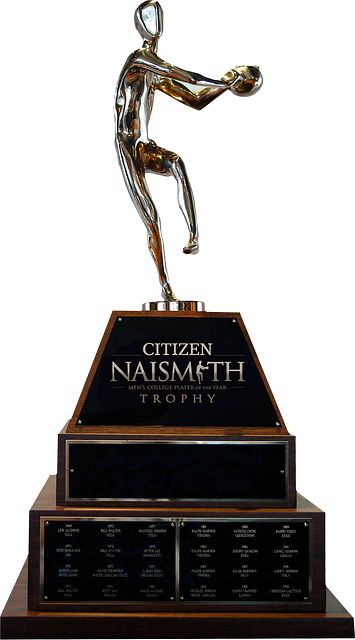 The 49th presentation of the Citizen Watch Naismith Trophy was announced on Sunday, April 2, 2017, at the Naismith Awards Brunch delivered by UPS at the Final Four in Scottsdale, Arizona. The 2016/2017 Citizen Watch Naismith Trophy was awarded to two players, a male and a female. This year's male winner was Frank Mason from University of Kansas and this years' female winner was Kelsey Plum from University of Washington.